www.youtube.com/watch?v=ft65QvKsswU
https://www.youtube.com/watch?v=qAhbzE0c_nY
Welcome to a mother church - Home

ENDTIME HARVEST CHURCH

AFILLIATED WITH,
PENTECOSTAL MISSINON CHURCHES OF TANZANIA &

LIFEWAY MINISTRIES INTERNATIONAL
P.O.BOX 3204 DODOMA TANZANIA
Archbishop Dr Eliah E Mauza with Pastor Ester E,Mauza from the long time was helping many people in Tanzania has been spiritually responsive, there is grave concern among church leaders. Although they are reaching the lost, winning them to Christ and baptizing them, the new converts are not being discipled. This leaves the new converts vulnerable to the efforts of other Religiuos proselytizing. Believers in Tanzania need to be firmly grounded in God's Word in order to reach their country for Christ and stand against the growing shadow of this other Religiuos in to Affiliate in the Covernment Constitution, this is the plan of this other Religiuos here in Tanzania so I welcome many of the Missionaries to brock this black shwdos we Request people in the country and out of the country let us together to pray for this good National . the Eden of Africa [Tanzania]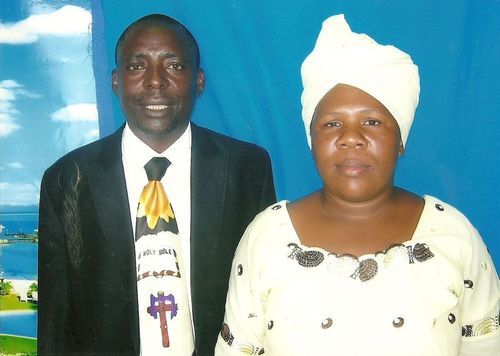 www.apostolicpentecostalchurches.org/pmct-tanzania.html
Bishop Dr Eliah Mauza was meet with the DR Congo Gonrverment and church Leaders in Bukavu city in DRCongo see in VIDEO here in

www.youtube.com/watch?v=ft65QvKsswU
http://aegaministries.ning.com/profile/LCMI
Shipments of Christian literature and Bibles has a great impact. Pastor Eliah Mauza reports, "I have somany letters requesting booklets... There is a great need of Scripture because many people cannot purchase even a New Testament...the daily income for one person is $1.00! Now when they get these booklets free, they wonder and thank God for this miracle this is the our Partners Organisation from U.S.A .http://aegaministries.ning.com/profile/lcni18:25:50
Rev, Bishop Dr Eliah and Pastor Ester Mauza, Church General overseer and the Founder of African Task Mission Network

Reaching rural villages and un-reached peoples with the gospel of Jesus Christ

Discipling new converts with sound, Biblical doctrines through native pastors
and literature distribution.

Planting churches and equipping the saints to reach their neighbors
and stand strong for Jesus Christ.

The EHC is located at area A Dodoma Tanzania road highway) from the Tanzania to west African countries . in The DistrictDodoma town is at present facing a great revival of the Gospel because historically this area has many Moslems, residents of Kondoa Dodoma previously knew nothing about Jesus Christ until in I973 when the first Pastor come, to preach the gospel of Jesus Christ in this area,

please we can hold the hand together for giving to give a offering for this work together with you . Dodoma is a good field for Gospel, these Muslims need Jesus christ. The speed of Christianity here is going very slow because many Spiritual denominations has no Power to speed the Gospel,especially in villages , I think because of Poverty too. As a result, Moslems has managed to establish their Centers for studies, they have Kindergarten School to High School and they are planning having a University. Now even Christian Children are being registered for studying.
people of God from Different who coming and started witnessing, Preaching and Planted the churches at Dodoma ten year is later coming nothing ,
many spiritual denominations came here for Planting Churches. It is still difficulty for residents to respond accepting Jesus,
but this time many People from other part of Tanzania are coming to work or coming for business there is a great revival for the Gospel now. Because Dodoma is the country centre side of Tanzania Citys we welcome you to join with us for the work of the Lord Jesus Christ,

OUR PLAN:

(I) Plan as EHCM here we start Christian Nursery Schools, Primary to high Schools, Adult education Centers, Life Skills Centers ,Bible Schools, Start self reliance groups to eradicate Poverty, establish Orphans Centers and plant as many Churches as Possible.

(2) Invite Missionaries who have call and are willing to work in Tanzania.

(3) Invite International Preachers who can Sponsor meetings and come to Preach the Gospel Revival

(4) Invite People from Tanzania and outside who can give/support for Church Buildings, because most of Church Buildings are rented from Individuals or Government Buildings, we need People who are able to sponsor Buildings, support native Pastors who are daily suffering into remote areas. WE need People who can support Gospel Literature Distribution, many lost souls are daily Perishing without knowing Jesus, many Preachers are coming in Cities and towns only,
We Welcome all those who can agree working with us, God bless you.